Job Management Systems & Ops Management
Our Job Management Systems are designed to manage your PPM and Reactive maintenance requirements. The systems work on desktops and mobile devices, they help businesses manage staff, job scheduling, cash flow, job sheets, SLA's, and much more…
We design job management software for businesses. All businesses are different and as such work in different ways. We build for you and how you wish to work, how you manage your Clients, your Office, and the Field Maintenance Teams.
Client Portals to integrate documents and information (you control what, and how much anyone can view). In fact, if you need a process in your business, and you want it to work in a particular way, we can help!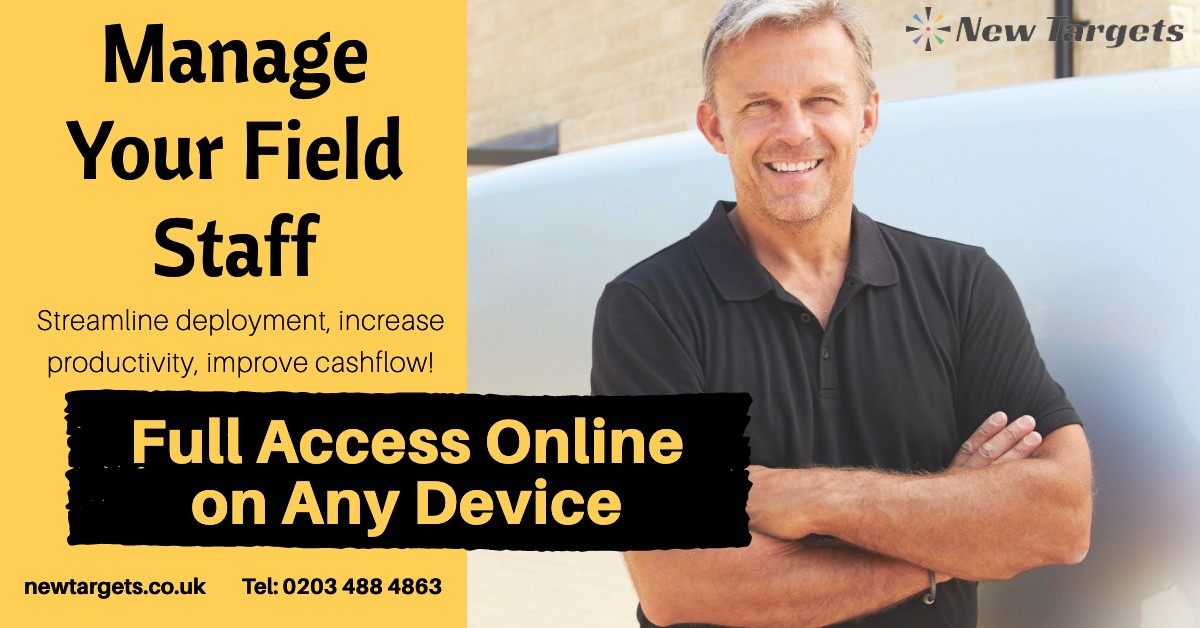 Book a Zoom Demo Today!
See how we can help your business make savings and improve Service
---
Do More Jobs!
More Jobs Completed a Month…
Job Instructions on Handheld
Worksheets Instantly to Office
Faster Client Updates
Faster Invoicing – Cashflow!
Fuel Savings!
Cost per Job Reduces…
Limits Repeat Visits
Job Walking Order Improves
Job Costing Becomes Sharper
Right First Time Attitude!
Office & Field Streamlined
Office – More Time with Customers… 
Office Automation
Hours Saved in Admin
Less Time Talking to the Field
Faster Information Flow!
Made for You!
Designed for your Business Needs…
Job Instructions to Handheld
Your Worksheet Design
Company Branding
Images added to Jobsheets
Electronic Whiteboard
Upcoming Jobs Displayed Onscreen…
View Designed for You!
Show Active & Unavailable Teams
Updated in Realtime
Track your Work!
Working Remotely
Office, Full Access Remotely
Control Who Sees What!
Field Team Work Anywhere
Job Management Systems for Operations Management
We design & build for operations management to your requirement. We can build all types of systems, so it really doesn't matter how you work, we can build to suit. Cost is a common question, the fact is that it will vary depending on the size and complexity of the system. Regardless, the systems are very affordable and will pay back very quickly!
Request a ZOOM Meeting Today!
Don't Undervalue Job Management Software?
We started designing our systems a number of years ago, aimed at operations management. Our approach is to work with our clients to look at how best to unite with one management system, software that will serve best their business activity, managing jobs, clients, deployment, and completions in the most streamlined way in order to create financial value to the company.
In my mind, the hardest part of any pitch is demonstrating true value to a new business. What we do know having managed the implementation of a number of our systems, once it's implemented and running, nobody wants to go back to the old ways of coping!
Job Management Systems for Small Businesses
New Targets' job management systems are designed to be a complete Building & Operations Management solution. The bespoke build is designed and created to each company's requirements. Understanding that whilst similar companies provide FM services to their clients, they operate and execute the service very differently from each other.
We work with each of our clients to design the right system for them. A key part of our service and overall outcome for the system. Designed for growth and adaptation, so as the business develops, adds new services, manages new clients, employs more operatives, the new system flexes to meet your needs. The ability to customise for specific customer requirements has proved invaluable to many of our current clients.
A Job Management System that Fits You!
Maintenance and job instructions, paperwork, job sheets & condition reports captured in one easy to access location. An excellent tool for people working remotely, all that's needed is an internet-enabled device, laptop, tablet, even on a mobile phone!
We build a complete operational system to replace multiple spreadsheets, whiteboard displays, and paper job sheets as well as many other office type software products that companies rely upon.
Additional Web Services

Available
Website Company
Showcase Your Business…
Websites to Impress Clients
Increase Orders & Sales
Host Video Content
Connect to your Customers
Internet Marketing
Promote Your Website…
Increase Client Contact
Create a Business Interest
Be Found by Customers
Be Ahead of Your Competitors
Web Video
Film Great Messages… 
WOW! Addition to all Websites
Create Your Business Advert
Video Sales Pitch
People Stay on Site Longer
Video Banners
Refresh Your Website…
Brings Life to a Page
Simple Messages
Customer Retention Onsite
Stand Out, Be Remembered
Video Clips
Client Love Them…
Showcase Service & Products
Be Remembered by Visitors
Social Media Must!
A Video Advert
CRM Design
Allows you to…
Business System Design
Build for Your Business
Streamline Your Office
Save Time & Money